Testimonials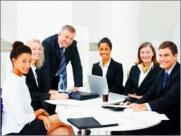 Dany Chakhtoura is a true professional. I have worked with him for several years now having hired him for multiple projects and I am pleased to say that I have never been sorry. Dany is a pleasure to work with. His communication is open and honest and he has creative ideas. He has received great reviews in the classroom and all of our clients listen to and respect him. I recommend Dany highly without any reservations.


Clifford Brody
Founder and Chief Executive Officer
Global Bankers Institute
cliff.brody@globalbankersinstitute.com
www.globalbankersinstitute.com
---------------------------------------------------------------------------------------------------------------------------
In February 2011 Danny Chakhtoura presented: Managerial Skills, Time Management, Negotiation Skills and Empowerment of Women to the Canadian University of Dubai internship cohort. His presentation style made the students feel comfortable and he was able to attain a high level of crowd interaction.

Danny displayed professionalism and was very easy to work with while organizing and identifying the needs of the workshop. I would be happy to use and am confident referring Danny's services.

Mary-Alison Lyman
Student Services Manager
Canadian University of Dubai
-------------------------------------------------------------------------------------------------------------------------
After Dealing with Dr. Dany we can say he is " Very well explained and interactive, A good and clear understanding. Very good activities. Communication to the group was very good.

Mr. Nasser Al Tami
Business Development Manager
Ecoman Consultancy and Training
-------------------------------------------------------------------------------------------------------------------------
The Unity of intellect is the way of communication between us; whatever we become so close in thought we become alike. By this similitude we can reflect our ideas by a written way, drawing and music. This encouraged us to deal with Dany Chakhtoura because they touched our ideas so that they made it so alive even in papers to inform others on us, and reflect their exception.""


ICIS
Eng.Mayada Kayali
Vice-General Manager
---------------------------------------------------------------------------------------------------------------------------
Dany adopts a very practical approach to topical and seemingly complicated issues making it easy for him to connect with participants as well as earn their trust and attention. His delivery style creates a relaxed atmosphere that makes learning easy and enhances assimilation of the issues. When a faculty can engage the the active wiling participation of a class for days unend, then you know he has a unique style which very few like Dany possess, little wonder he comes highly recommended."


A. P. Okala (Esq.)
Legal Adviser,
Nigerian Investment Promotion Commission
--------------------------------------------------------------------------------------------------------------------------
Your excellent training skills and courteous personality inspired me tremendously and positively impacted my career journey in Dubai at Sheraton Deira Hotel.
Without your helpfulness and directness, Hopes for a bright career would have been more challenging. I appreciated you for being practical in your training and letting me know what kill career growth in modern management.
I promise that whenever you will be and wherever i will go practicing Human Resources and Administration, i will keep you at heart. It is comforting to know that whenever I have a question you be there to guide or to answer. I liked you so much in using your personal work-related situations as examples when training us .
I have learned so much from you and I look forward to learning more. Thank you for being a remarkable trainer and I am very grateful to have you as a a mentor.
Warm greetings and Regards from Uganda the Pearl of Africa.
AMUKAMA.K.GEOFREY
Manager, Human Resources & Administration Uganda Registration Services Bureau